GuadalaHARRY's has great food, hand-crafted cocktails, and live entertainment! Located directly on Lake Conroe, you can enjoy our stunning sunsets and beautiful views every day of the week—plus LIVE music acts EVERY Friday and Saturday night!
Looks like the weather will be nice and cool this weekend, so come on out for music and dancing on the patio both nights! It's a party you don't want to miss!
Doug Wooley LIVE – Friday, April 8, 2022
Doug Wooley is an awesome guitarist and songwriter from Nashville. His talent spans multiple genres, and he's got some creative, fun originals you'll love!
Doug's guitar playing is top-notch, and his songs are catchy as all get out. He has a ton of talent and he knows how to use it!
So y'all come out and see him play this Friday night—It'll be a hootin' & hollerin' good time!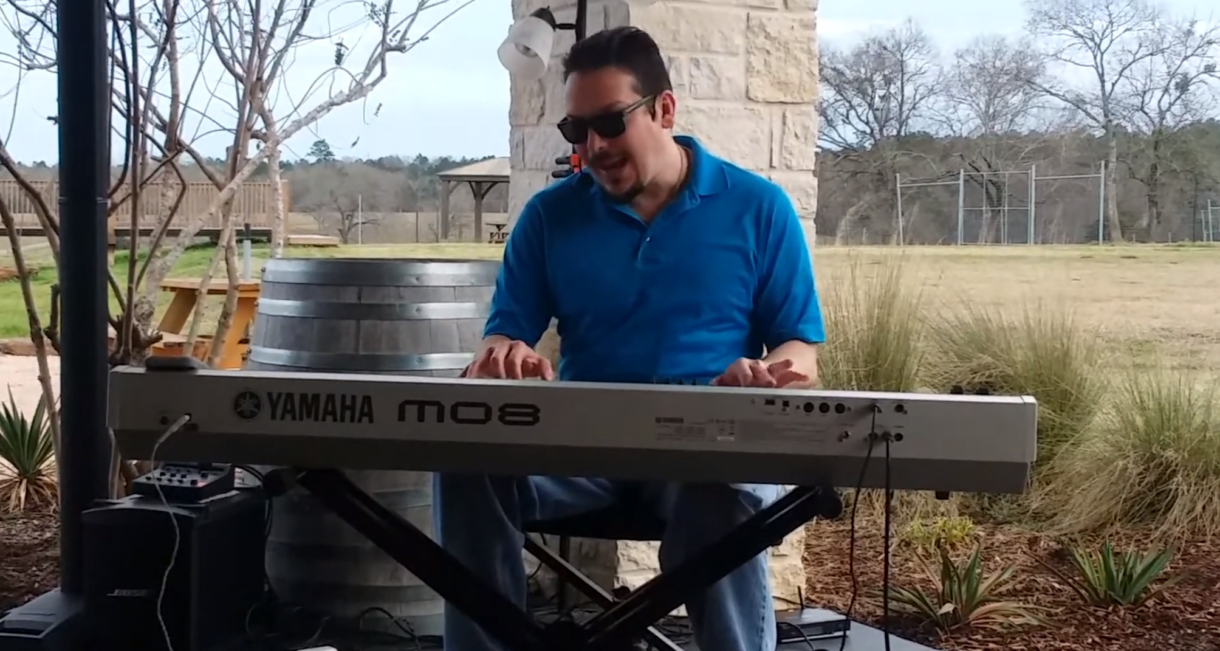 James Zimmerman LIVE – Saturday, April 9, 2022
If you've seen him perform before, then you know James "The Piano Man" Zimmerman always puts on one heck of a show. We're happy to have him back on the live music patio at GuadalaHARRY's this Saturday—it'll be a night to remember!
So round up your friends and family and head on out to the lake this Saturday night to see James tearing up the keyboard with songs like GREAT BALLS OF FIRE and so much more!
And as always—enjoy dancing on the patio, fantastic music, delicious food, handcrafted cocktails, spot-on service, and beautiful lake views.
Great live music, food, drinks, and fun! What more could you ask for?
We'll see you this weekend at GuadalaHARRY's!
Venue Information
GuadalaHARRY's Bar & Grill – Music Patio
12947 Lake Conroe Hills Drive
Willis, Texas 77318
+1 (936) 701-5168
Every weekend, GuadalaHARRY's Bar & Grill invites local bands and up-and-coming artists to perform live on our music patio. Enjoy fresh seafood, steak, Tex-Mex, and Cajun cuisine, hand-crafted cocktails, beautiful sunset views, and live entertainment on Lake Conroe every Friday and Saturday from 7:00 pm – 10:00 pm.
Alongside our live music performances every weekend, GuadalaHARRY's also offers more nights of music! Every Tuesday is Open Mic Night with Andy Rodriguez—sign-in starts at 6 PM. Sunday nights and Wednesday nights are GuadalaHARRY's Karaoke Nights!
Recent Reviews from Guests
"What a lovely surprise! Paradise on the Porch! Beautiful water view on the outside balcony, the owners were very honest and pragmatic about the water main burst! We had beverages and enjoyed the view until we were finally able to order! What a hidden gem, the fried shrimp were excellent, the grilled chicken salads as well! What a lovely way to spend a Sunday afternoon catching up with a good friend! The service was great, friendly and courteous! I highly recommend this close by escape to everyone!"
-Lydia T. on Google
"This place was AMAZING! Tuesdays are open mike night with a theme. It's was so fun! The owner Harry is fantastical, he goes around and talks to everyone… so cool! I will be back!"
-Jeni W. on Google