The party continues at GuadalaHARRY's this week! As always, we're bringing in some of the best local talent to keep you entertained, and our staff will be serving up mouthwatering cuisine and our signature handcrafted cocktails to keep you fueled all weekend! So come on out to the lake this weekend, and get ready to be blown away by the best live music for miles around.
Whether you're seeking an epic night out with your crew or an early Valentine's date night with your significant other—GuadalaHARRY's has got you covered. So gather your squad and brace yourselves for a weekend that promises to be unforgettable.
Friday, February 10, 2023 – Cory Bosley & Friends LIVE
CORY BOSLEY AND FRIENDS, a talented group of musicians from the highly regarded local band RISKY LIVER, are set to take the shores of Lake Conroe this Friday night. And with their musical artillery ranging from classic country to classic rock, they're ready to conquer the music patio at GuadalaHARRY's!
Whether you're a fan of Cory Bosley, Risky Liver, or just enjoy great live music, this show is one you won't want to miss—so gather your troops, grab a cold drink, and brace yourselves for an epic night of live music, good fun, and great company!
Saturday, February 11, 2023 – Raizin' Cain LIVE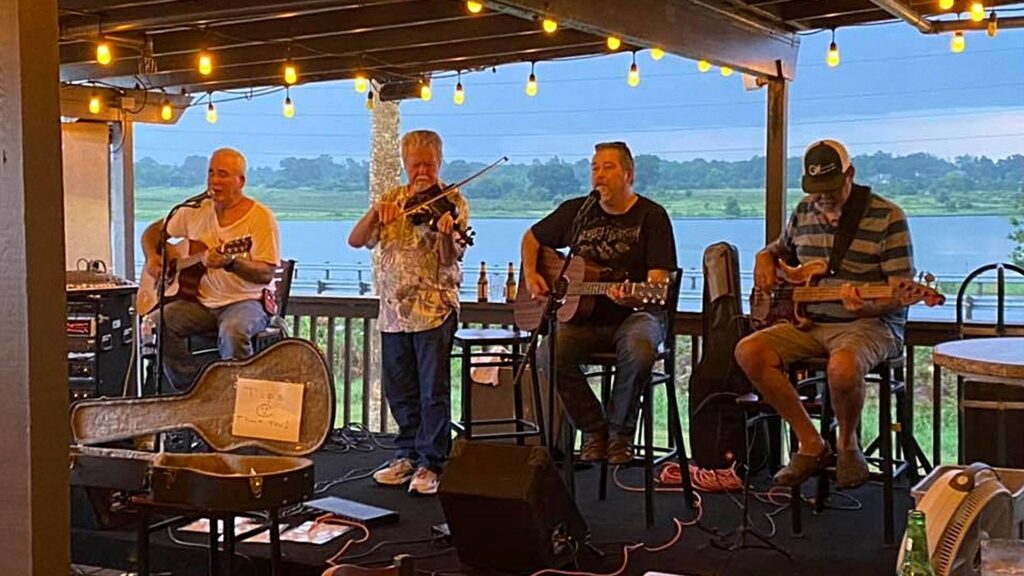 This Saturday, come out and join us at GuadalaHARRY's for a great night of live music with local favorites RAIZIN' CAIN. Hailing from Huntsville, this dynamic band is the embodiment of rock & roll, country, and blues, creating a sound that's truly unique and unforgettable. They're long-time local favorites, and their performances are nothing short of spectacular. Get ready to feel the emotions, tap into the energy, and witness the raw talent of RAIZIN' CAIN as they leave you singing and dancing the night away on our lakeside music patio!
Venue Information
GuadalaHARRY'S Bar & Grill – Music Patio
12947 Lake Conroe Hills Drive
Willis, Texas 77318
+1 (936) 701-5168
GuadalaHARRY'S Bar & Grill hosts live entertainment on the music patio. Enjoy fresh seafood, steak, Tex-Mex, and Cajun cuisine, hand-crafted cocktails, lake views, and live music on our patio every Friday and Saturday from 7:00pm – 10:00pm.
Recent Guest Reviews
"5 stars"
– Kevin L. on Google, 1 Week Ago
"I had the best dining experience with Chasyti, she was the best and I will for sure be back !"
– C Bennett. on Google, 1 Week Ago
"Brilliant service from Cody the bartender. He is upbeat and out to make the best experience for guests. If you are considering anywhere on the lake to have a fantastic coctail and good vibes come see Cody"
– Steven A. on Google, 2 Weeks Ago
"The food is excellent, the service even better. Our waitress with long dark hair went above and beyond."
– Michelle B. on Google, 2 Weeks Ago
"LOVE everything about Guadalaharry's! The food is always delicious and the portion sizes are well worth the updated costs. Chasyti is OUTSTANDING every time I'm there. I love her bubbly personality and her efficiency.
Parking: Huge parking lot but gets busy when people use their parking lot for the dock as well.
Wheelchair accessibility: There is an elevator to take up to the second floor if needed. As far as I've been, it's always in service!"
– Maddison A. on Google, 2 Weeks Ago
"5 stars"
– Grace G. on Google, 2 Weeks Ago
"Great place on the lake! We'll definitely return!!
Food: 5/5 | Service: 5/5 | Atmosphere: 5/5
Recommended dishes
Fries, Harry's Famous Crab Cakes, Hot Wings"
– Amanda G. on Google, 2 Weeks Ago