St. Patrick's Day may still be a couple weeks away, but there's no reason you can't start the party early—and GuadalaHARRY's has got you covered with the best live music on Lake Conroe!
From smoky blues to high-octane rock to country crooning—and everything in between—we've got something for everyone. And this weekend, we're bringing the heat with two nights of pure, unadulterated musical magic from AARON KANTOR and RAIZIN' CAIN!
Why settle for the same old boring weekend plans when you can join the party right here at GuadalaHARRY's? Get ready to let loose, get wild, and immerse yourself in some great music.
Don't just take our word for it—come on down to the lake and see for yourself why GuadalaHARRY's is the best venue around for good times and great music!
Friday, March 3, 2023 – Aaron Kantor LIVE
Get ready for an electrifying live performance by the one and only AARON KANTOR this Friday night at GuadalaHARRY's!
"Aaron Kantor has the "it" factor—that certain something that eludes so many of today's aspiring artists. It's not just Aaron's pure, natural country voice; it's not just his undeniable talent for songwriting or his inviting presence on stage. "It" is all of these talents and more." —MP3.COM
Aaron's lean and velvety, deep voice is a true rarity in country music, with only a handful of artists like Johnny Cash, Don Williams, George Strait, and Josh Turner having mastered the low register. With roots in Omaha, Nashville, Austin, and Denver, Aaron has honed his craft across the United States, playing to audiences big and small.
Having shared the stage with country music greats like Eric Church, Jason Boland & The Stragglers, Mark Chesnutt, and Joe Nichols, Aaron is no stranger to the big stage. He's played at iconic venues like the House of Blues New Orleans and the MGM Grand, bringing his laid-back classic country sound to fans all over.
In Aaron's own words: "I'm a true dancehall, traditional country guy that loves to perform, that loves to make my rounds after the shows. I try and talk with everyone that took the time to come see me. I'm a troubadour at heart — I keep it moving."
This Friday night starting at 7:00PM, come experience Aaron Kantor live at GuadalaHARRY's!
Saturday, March 4, 2023 – Raizin' Cain LIVE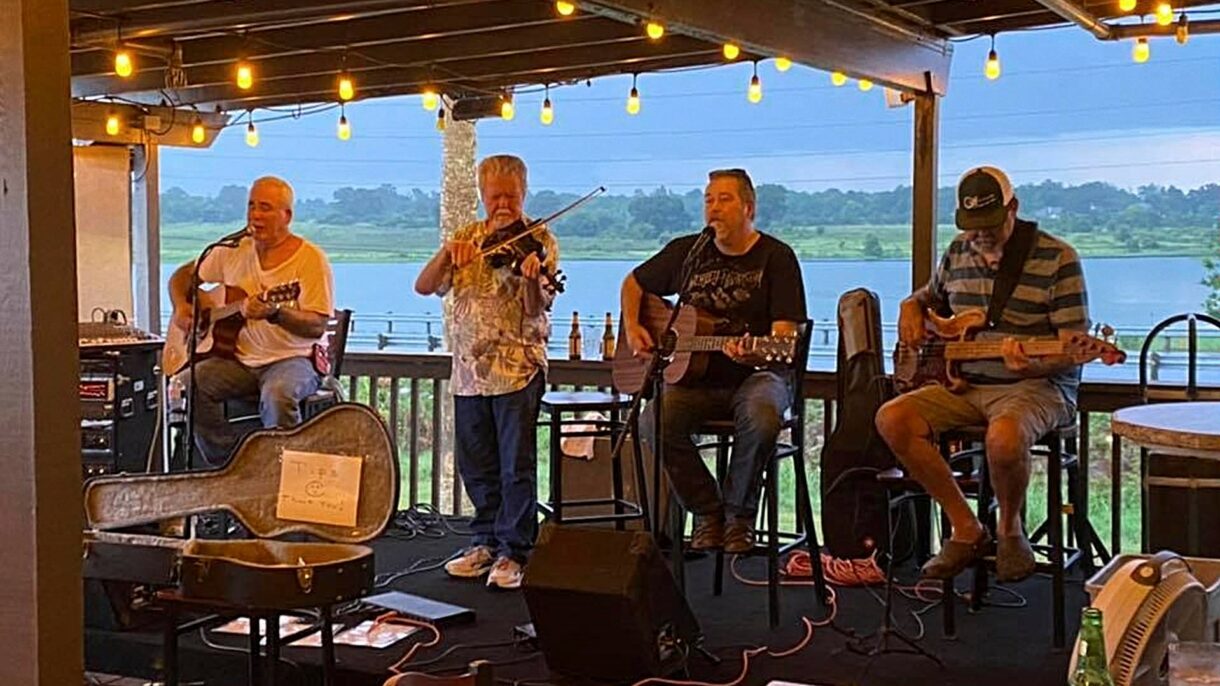 Get ready to rock out like never before with RAIZIN' CAIN at GuadalaHARRY's this Saturday night! Hailing from Huntsville, this local band has earned a well-deserved reputation for their unique fusion of rock & roll, country, and blues, that creates a sound all their own.
With a loyal following of fans who can't get enough of their electrifying live performances, Raizin Cain is sure to blow you away and leave you wanting more—just like that extra shot of tequila you know you shouldn't take, but can't resist!
Raizin Cain's music is a perfect blend of emotion, energy, and musical prowess—you won't be able to resist singing and dancing along! So grab your friends, order up a round of drinks, and get ready for a night of unforgettable music and wild times.
Come experience Raizin Cain live on Lake Conroe this Saturday night at 7:00PM at GuadalaHARRY's! Just remember—if you're not hoarse from singing along the next day, you didn't do it right. We'll see you soon!
Venue Information
GuadalaHARRY's Bar & Grill – Music Patio
12947 Lake Conroe Hills Drive
Willis, Texas 77318
+1 (936) 701-5168
Every weekend, GuadalaHARRY's Bar & Grill invites local bands and up and coming artists to perform live on our music patio. Enjoy the best fresh seafood, steak, Tex-Mex, and Cajun cuisine, hand-crafted cocktails, beautiful sunset views, and live entertainment on Lake Conroe every Friday and Saturday from 7:00pm – 10:00pm.
Recent Guest Reviews
"This place was a real treat that I was taken to as a thank you. Couldn't have chosen better.
Food: 5/5 | Service: 5/5 | Atmosphere: 5/5"
–Katie H. on Google, 2 hours ago
"We LOVE Guadalaharry's! It is our go to date night place usually on a Friday night! Great food and great service! We have been coming here for almost two years. It gets better and better each time! Love the view!"
–Tori E.L. on Google, 1 day ago
"Great time and good food and excellent entertainment. Vegetarian options: They will accommodate your request. Kid-friendliness: Kids enjoy this place. Wheelchair accessibility: They have a elevator. Dietary restrictions: Just ask and they will accommodate your needs."
– Kevin & Stacey on Google, 1 week ago
"Great place to relax, unwind and enjoy. The food and drinks are reasonable. The Crawfish were awesome. Spicy, easy to peel and delicious 😋. Harry is a very gracious host and will entertain you with well told stories."
– Donald C. on Google, 1 week ago
"Food is good. Also a great place for lunch if you want to relax.
Food: 5/5 | Service: 5/5 | Atmosphere: 5/5"
– Keith B. on Google, 1 week ago
"Great first experience at GuadalaHarrys. Greg was our bartender and gave us great suggestions. Crawfish was yummy and the drinks were ice cold. 😊"
– Paris G. on Google, 2 weeks ago