Friday, May 5, 2023 – Aaron Kantor LIVE
"Aaron Kantor has the "it" factor—that certain something that eludes so many of today's aspiring artists. It's not just Aaron's pure, natural country voice; it's not just his undeniable talent for songwriting or his inviting presence on stage. "It" is all of these talents and more." —MP3.COM
This Friday, get ready for a great show as AARON KANTOR takes the stage for a LIVE performance on the music patio at GuadalaHARRY's! Don't miss this event!
Boasting a lean and velvety, deep voice – a rarity in country music that comprises of less than a few handfuls that have mastered the low register, such as credited by Johnny Cash, Don Williams, George Strait, and Josh Turner – country crooner Aaron Kantor carries the torch of authoritative old-school bass baritones, meshed with a modern approach.
Laying down his laid-back classic country sound in four musical hometowns – Omaha, Nashville, Austin, and Denver – Aaron has honed his craft in each city since his early twenties, playing for audiences across the states. He has shared the stage with Eric Church, Jason Boland & The Stragglers, Mark Chesnutt, and Joe Nichols, as well as he's been billed at staple venues like the House of Blues New Orleans and the MGM Grand.
In Aaron's own words: "I'm a true dancehall, traditional country guy that loves to perform, that loves to make my rounds after the shows. I try and talk with everyone that took the time to come see me. I'm a troubadour at heart — I keep it moving."
You can hear Aaron Kantor's single Vicariously wherever you listen to music—Spotify, Amazon, or Apple Music. You can also find him on Facebook, Instagram, Twitter, and his own official website at aaronkantor.com.
Get ready for an unforgettable FRIDAY NIGHT as Aaron delivers a great live music performance at GuadalaHARRY's! Join us for an evening filled with the best food, the best drinks, the best service, and the best live entertainment on Lake Conroe!
Saturday, May 6, 2023 – James Zimmerman LIVE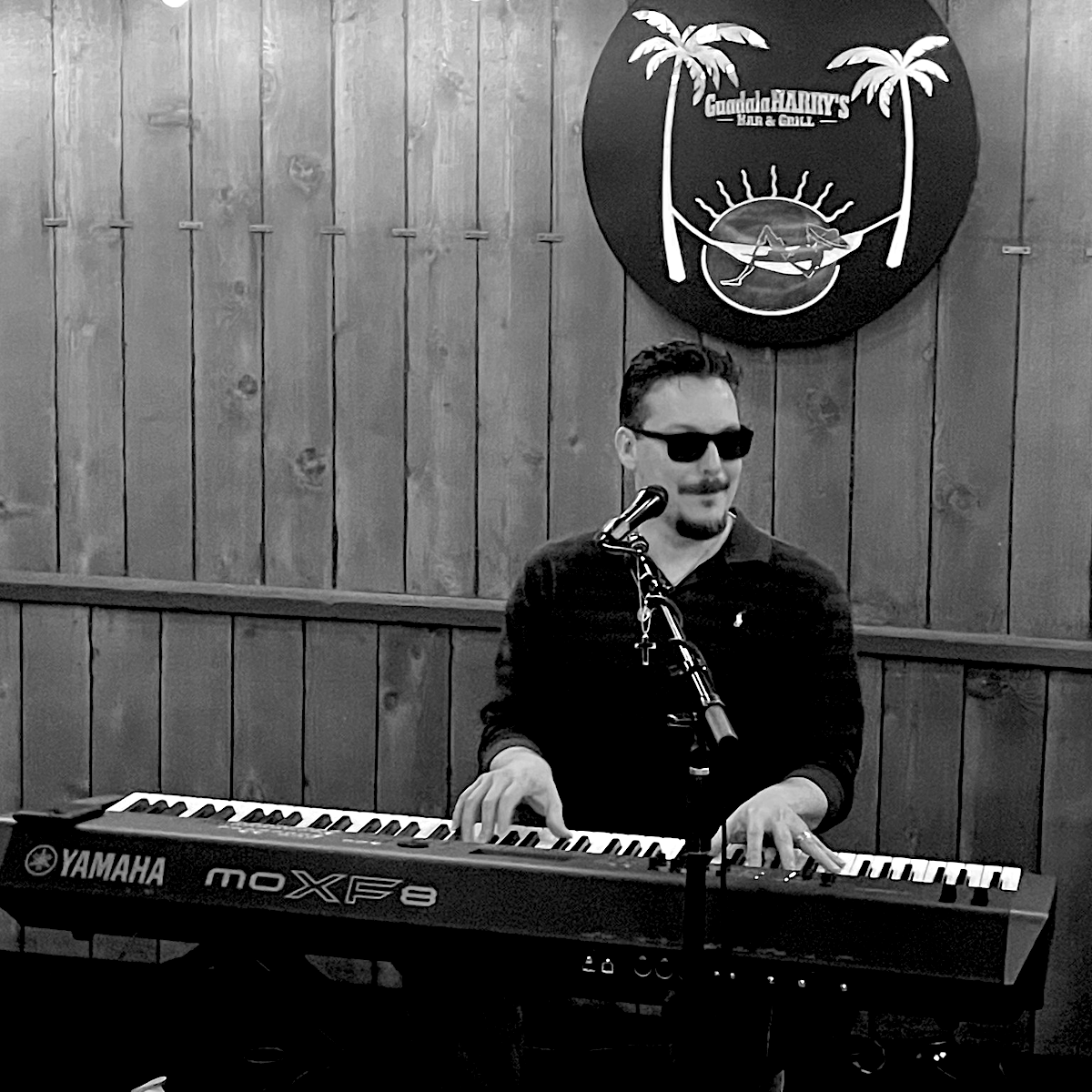 If you've seen him perform before, then you know James "The Piano Man" Zimmerman always puts on one heck of a show. And we're happy to have him back on our live music patio at GuadalaHARRY's this Saturday!
Gather your friends and family for an unforgettable lakeside experience this Saturday night, as James sets the ivories ablaze with his keyboard mastery, featuring iconic hits like GREAT BALLS OF FIRE and so much more!
And as always—enjoy dancing on the patio, fantastic music, delicious food, handcrafted cocktails, spot-on service, and beautiful lake views.
Great live music, food, drinks, and fun! What more could you ask for?
Venue Information
GuadalaHARRY'S Bar & Grill – Music Patio
12947 Lake Conroe Hills Drive
Willis, Texas 77318
+1 (936) 701-5168
Every weekend, GuadalaHARRY's Bar & Grill invites local bands and up-and-coming artists to perform live on our music patio. Enjoy fresh seafood, steak, Tex-Mex, and Cajun cuisine, hand-crafted cocktails, beautiful sunset views, and live entertainment on Lake Conroe every Friday and Saturday from 7:00 pm – 10:00 pm.
Recent Guest Reviews
"Cody provided excellent service. Above and beyond. Great food, cold beer and awesome views. My local favorite for food drink service and music. 6 stars if I could!!!"
–Richard B. on Google, 2 hours ago
"Everything spectacular. The vibes, the atmosphere, the costumer services & the food amazing. Water front perfect to relax while you enjoy a delicious plate."
–Camila L. on Google, 4 days ago
"Great food, a great service, great atmosphere, great views!"
–Derek J. on Google, 1 week ago
"Always a pleasurable experience! Stopped by for a bite and libations while boating! Doesn't disappoint, not like some of the touristic establishments around the lake. Harry's is a place for locals year round and for the part-timers alike!""
–Tracy L. on Google, 2 weeks ago
"The food here is so bomb. Look no further. Trust me. You wanna check this spot out. Friendly staff and pretty waitress who was very attentive. I loved the gator bites and the view of Lake Conroe was so peaceful and calming.
For my sweeth tooth we got the mint chocolate cheesecake and my gosh it was so unique.
Looks like they do karaoke nights here too. I'd come back to see how the vibe is when people are singing!
Plenty of parking outside. Clean restrooms. I'd highly recommend this restaurant to anyone visiting or local :)"
–Kat T. on Google, 1 month ago